IPTV Smarters Pro is an IPTV player for everyone, unlike other IPTV players it plays nicely on various operating systems, especially Android, in this article I will explain how you can sideload IPTV Smarters Pro on your Windows/MAC OS computer using an android emulator.
you should be aware that IPTV Smarters Pro has native windows & MAC OS versions that you can download from their official website iptvsmarters.com, but from my experience, it still needs a lot of work because it is much slower than using the android version with an emulator.
of course, before reading any further you can try it out if you prefer not to use an android emulator, if it works properly for you there is no need to follow along with this setup guide and you can jump straight forward to part 4 where I explained how you can connect IPTV Smarters pro to your IPTV providers.
Part-1: Install blue Stacks on your windows machine.
1- go to bluestacks.com and hit download, like any other windows program click on the setup file and complete the install which is basically just clicking on Next > Next > Open.
Part-2: install a VPN on your windows machine ( optional )
this is not required to install any of this but I highly recommend using a VPN when streaming IPTV because of various reseason like getting a better streaming quality by bypassing your ISP restrictions keeping your browsing secure.
if you like to know more about how to use a VPN and what are the best VPN services for IPTV you can check this article why you need to use a VPN when streaming IPTV.
if you already have a VPN subscription, download their windows app and connect to your country or the closest one to you in case your VPN service doesn't have servers in your country, this will ensure that your connection will not get interrupted.
Part-3: Install IPTV Smarters Pro on Bluestacks,
Edit: IPTV SMARTERS PRO IS BACK TO THE PLAY STORE SINCE IT CAN BE REMOVED AND BACK WITHOUT ANY NOTICE IT'S HARD TO KEEP THE BLOG UPDATED, I WILL SUGGEST OPEN THE PLAY STORE AND SEARCH FOR IT IF YOU FIND IT IGNORE THIS PART AND GO TO PART-4 TO CONNECT TO YOUR IPTV PROVIDER, BUT I WILL KEEP THIS PART WHERE I EXPLEAND HOW TO SIDELOAD IT IN CASE YOU DIDN'T FIND IT AVAILABLE ON THE PLAYSTORE AND IT GOT REMOVED AGAIN.
before we were used to downloading this IPTV player straight from the play store but since it got removed from there in late March 2021, you will need to go through an additional step we call side loading in order to get this app on your device.
1- Open google chrome
blue stacks comes with chrome by defaul, click on it to be able to browse.
2- Go to IPTV Smarters Pro official website,
you can either write this link iptvhow.com/ds to download the app right away, or you can download it straight from their official website by visiting iptvsmarters.com, scroll down until you see download APK, click on it and the download will start automatically.
keep in mind that your browser will warn you that this file can be harmful to your device, which is just another way to say that this file is not available on the play store and we don't encourage downloading apps from unknown sources, since this is exactly what we wanna do click on ok to ignore the notification.
3- Open the APK
you will find the APK file on the same page in a notification where it says the download is completed, but if you didn't see it go to the file manager and choose recently added, you will find the APK file under the name of IPTV Smarters pro click on it.
click on the app icon.
4- Install the app
after clicking on the APK file you will see a similar page to the image below click on install and this will start the installation process.
5- Close the APP and delete the APK file ( Optional )
after clicking on install the app will be available on your dashboard, but before opening it you can delete the APK file since there is no need for it anymore, to do that go once back to the file manager and keep processing on the APK file the delete option will appear, click on it.
Part-4 Connect to your IPTV provider.
1- Open IPTV Smarters Pro
now after you have successfully installed IPTV Smarters Pro on your device you will find it available on your dashboard with all other apps, click on the app icon to open it.
2- Choose the Xtream Codes
IPTV Smarters Pro gives the freedom to use any method you like, I will highly recommed goin with the Xtream Codes API, which is simpler and faster in updating the channels list.
3- Enter your account details
here you will be able to enter you account details that your IPTV provider has given you
Note: if you IPTV provder has giving you only the m3u link you can easily extract the Xtream Codes API follow this method.
the m3u link always come like this http://line.domain.com/get.php?username=**XXXX**&password=**XXXX**&type=m3u_plus&output=ts
URL is the part starting with HTTP to .com in this case it is http://line.domain.com
Username: is the part after username= XXXX in your case it will be numbers/letters and not XXXX
Password: just like the username it is the part after &password= XXXX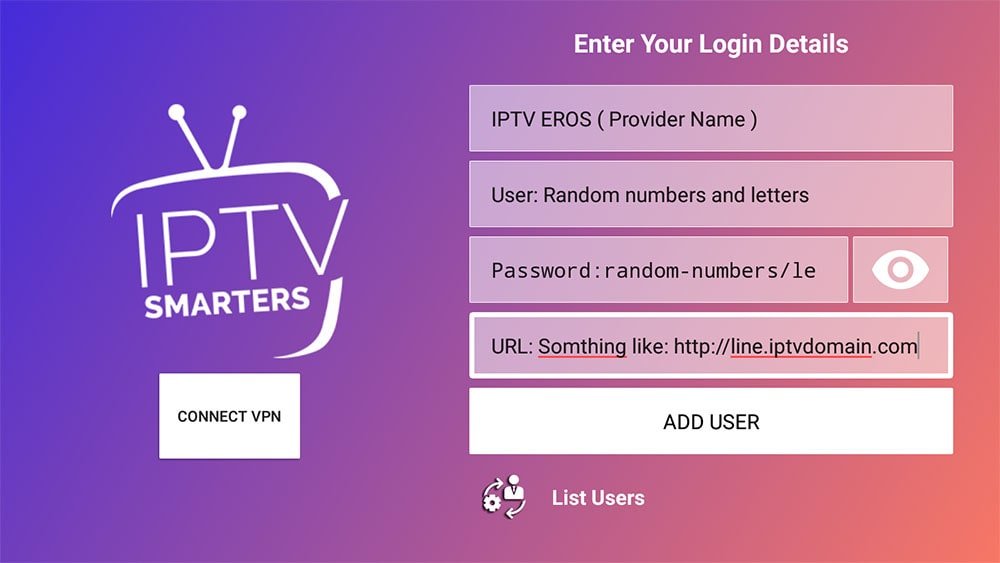 4- Enjoy!
after quick download progress for the channels, IPTV Smarters Pro will display the following dashboard where you can access the Live TV, Movies, and series ( VOD )
Wrap up
IPTV Smarters Pro is a great option no matter what operating system your device uses, this IPTV player has a native windows version but it still slow and not well optimized downloading an Android emulator like blue stacks opens a whole world of possibilities to enhance your streaming experience.