with its easy-to-use interface, fully-fledged features, and solid integration to IPTV services, Tivimate is without any doubt one of the best IPTV players you can find out there.
In this article, I will break down how to easily set up Tivimate on your Firestick, Fire TV, and Android TV Box plus I will share a full review of all the features it provides.
what you first need to know is that Tivimate comes with two versions free and premium, I highly recommend you to go with the premium version which offers the following:
Catch-up
Allow connecting to multiple IPTV providers ( multi-playlists )
Schedule recordings
Add your favorite channels to a custom playlist
auto-update for the TV Guide ( EPG )
and many more
In my opinion, without the premium upgrade, it will be better to go with free IPTV players such as IPTV smarters pro, where you can get many of these premium features free of charge, but if you're looking for a complete enjoyable user experience, you might want to give Tivimate premium a chance especially it's not that expensive only 4.99$/year for 5 devices, and it comes with a 5-days free trial.
before diving any further with the features and how to make the most of them, I will first explain to you how you can easily set it up on your device step by step ( with screenshots )
How to install Tivimate on FireStick, Fire TV, and Android TV Box
If you have a google tv, NVidia shield, or any device that has direct access to the play store, you can simply go to the app store to download this app.
Just like any normal android application, type its name on the search bar click on the app icon, and hit install. you may find another app with a similar name called Tivimate companion, it's just the app that allows you to create a premium account which I have covered below.
> jump to: how to create a premium account on Tivimate
but if you have a Firestick there will be some additional steps you have to go through to sideload this app, because it's not available by default on Fire TV Apps. ( don't worry it will take you less than 15 min to get it on your Firestick)
#1 Install Downloader app
there is an app called the Downloader which I have covered how you can install it on your device in a separate article, if you haven't done this yet, make sure first to read this article:
> How to install downloader app and enable apps from unknown sources
#2 Open Downloader on your FireTV.
after installing it on your device click on the app icon and launch it.
# 3 permit it to install applications on your device
Click on allow button as shown on the screenshot below.
#4 skip the quick start guide
just click on the yellow button ( OK )
#5 Type this URL
you will see a URL box, place your cursor in it and press ok on your remote to open the keyboard. type this URL exactly as shown here: https://iptvhow.com/tiv or this Number: 24637
# 5 click go to start downloading the app then click install.
6- Click Done
#7 you will see another pop-up click delete
since you have now successfully installed the app there is no need to keep the file you downloaded earlier.
#8 Confirm the Deletion
Click on delete again to confirm that you want to remove this file.
#9 return to the home screen on your device then click see all.
#10 scroll down until you find Tivimate
hover over it and click the menu button on your remote control it looks like 3 horizontal lines, then click on move to the front to make it easier for you to access this app every time you launch your device.
Note: The app has an auto-update feature so you will no longer need to sideload it. The app checks if a new version is available once per day. Also, you can manually check for new versions in Settings -> About.
How to connect Tivimate to your IPTV provider
The main thing you need to know is that Tivimate is not a provider, it doesn't give you any access to Live Tv or VOD ( Video-on-demand like movies & series), you need first to purchase a subscription from an IPTV provider based on your needs.
providers come in all shapes and sizes. do your research first check some reviews and always test only with one month when you first sign up to make sure the stream is stable.
I have published some articles reviewing how to choose the best IPTV provider along with some recommendations of what I personally use.
>> Tip: What are the best IPTV providers for 2021
when you sign up for a subscription they will send you an email with the m3u link that looks like this: http://line.domain.com/get.php?username**xxxx**&password=**xxxx**&type=m3u_plus&output=ts
Follow the screenshots below to make sure you successfully connect Tivimate to your IPTV provider server.
1- open Tivimate and click on add a new playlist
2- click on Enter URL
you will see many options you can either choose to connect with the m3u ( Enter URL) or Xtream codes login, for simplicity choose m3u ( there is no difference between the two) and you will get the same result at the end.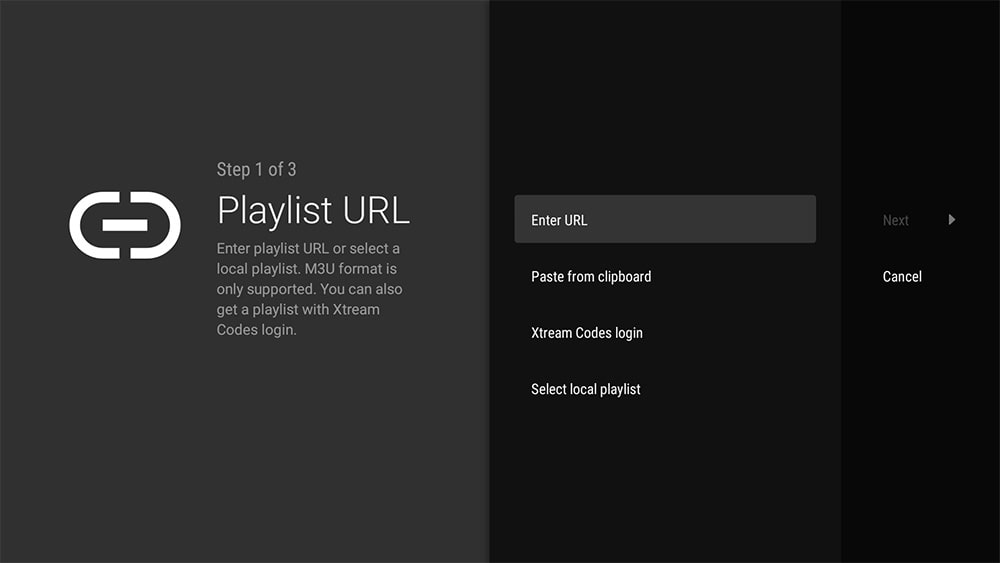 3- Type your Account information. & click next
as I said before your IPTV provider will send you some information including an m3u link that looks like this http://line.domain.com/get.php?username=XXXX&password=XXXX&type=m3u_plus&output=ts
Depending on whether they send you the Xtream codes login or not, you can always extract it from the m3u URL.
URL: is this first part: http://line.domain.com/
Username: is what after username= XXXX
Password: is what after password= XXXX
4- wait until the processing is completed
Tivimate will start connecting to the server which can take about 1-3 minutes based on your internet speed.
5- Click Done.
as shown on this screenshot after the processing is completed Tivimate will display the total number of channels your providers have given you access to.
6- Installation is completed
Congratulations you can now stream and customize the channels list, if you want to know how you can make the most out of Tivimate read this full features reviews.
> How to make the most out of Tivimate. full features review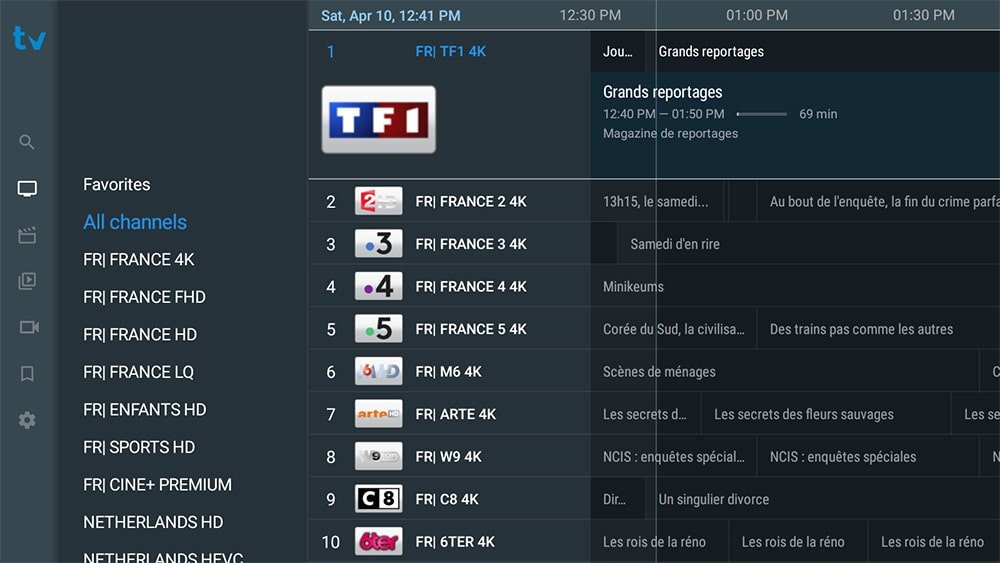 HOW TO CREATE A PREMIUM ACCOUNT WITH TIVIMATE
Now you have successfully finished connecting your IPTV provider to Tivimate, you will start to notice that many of the features are not working.
and this because you still have to unlock the premium features by entering your account details.
if you're interested in the premium version you should register an account on another app called Tivimate companion.
Now what you need to know is that this app is only available on the play store if you don't have an android phone, you will need to install an android emulator on your computer, I prefer Bluestacks which is available for both Mac OS and windows.
like any other program, all you have to do is to visit their official website ( https://www.bluestacks.com ) and click on the download button, after finishing the installation process you can log in to your google play account and search for the app with the name of " Tivimate companion".
if you don't have an android phone or a computer to run an android emulator, there is no site or other way to register an account ( at least by the time this article got published I will make sure to update it if this changed in the future), the best option is to ask a friend or a family member to register an account for you.
creating an account is very simple just type your email account and a password ( make sure to save them both on a password manager or a safe place because you will need to use them later).
after completing the payment, close this app and go to the device you have already installed Tivimate on.
Open the Tivimate app and go to the settings you will see an option called unlock premium click on it.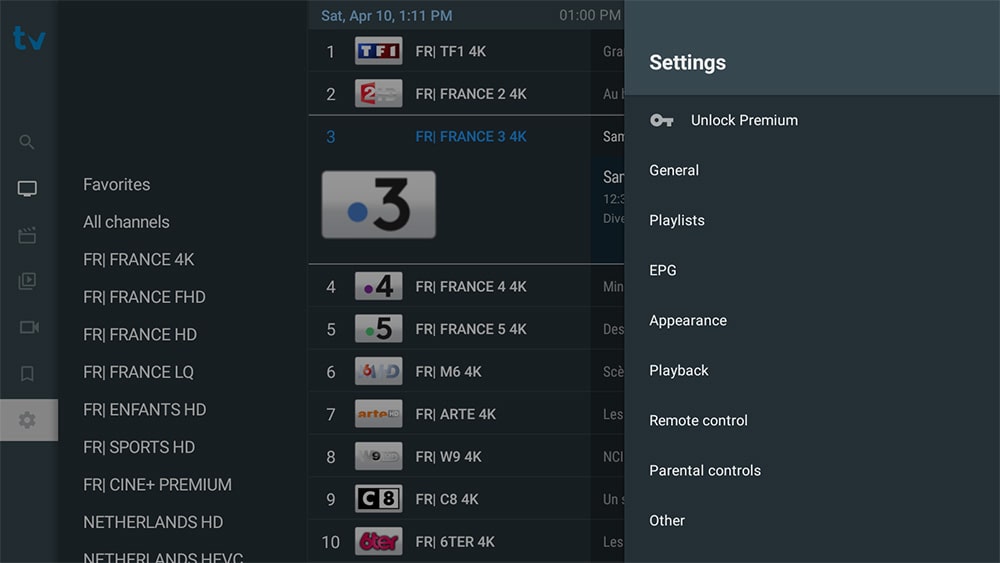 2- Click Next
this is just an Overview of what are the main features of Tivimate app.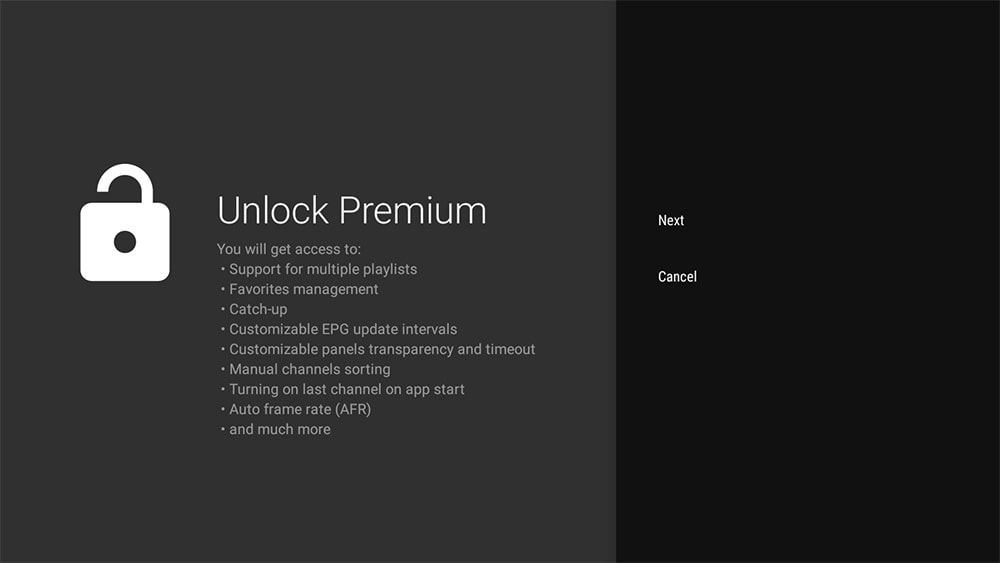 3- Click on account
here you can use the same email and password you registered with on Tivimate companion on the next window you will be able to give your device a name and then access all the premium features right away.