Chromecast with Google TV is one of the top choices for IPTV users not just because of its great performance and affordable pricing but also for the advantage of getting full access to the play store to download 100s of IPTV players without the need to perform any sideloading as we do on other popular streaming devices like Firesticks.
IPTV Smarters remains as one of the best free IPTV players for android and luckily we don't need to sideload it anymore as it's available for download now straight from the play store.
in this article, I will share how you can download and configure IPTV Smarters Pro on your Chromecast device.
Step-1: download IPTV Smarters Pro from the Playstore.
it was just until recently where we needed to sideload IPTV Smarters Pro in order to use it. now since it becomes available for download on the play store there is no need to go with the sideloading route
all you have to do is write IPTV Smarters on the search bar or you can use the voice command to the same thing.
Note: keep in mind that since IPTV players can get easily deleted again from the play store without any prior notice if you couldn't find IPTV Smarters App when searching follow along with this guide on how to sideload IPTV players on a Chromecast.
Step-2: Confugure IPTV Smarters Pro
by now you've got the app on your Chromecast all that is left is to connect to your IPTV provider server.
if you don't already have a subscription with an IPTV provider I will suggest you check this guide on how to choose the best IPTV provider for you.
1- Open IPTV Smarters Pro
after downloading it, IPTV Smarters will be available like any other app you already have on your device all you need to do now is click on the app icon to open it.
2- Choose Xtream Codes API
IPTV Smarters Pro gives you the option to use various methods to connect to your provider's server, I will highly recommend using the Xtream Codes API as it's much faster and the EPG is already included with it.
3- Fill in your account details.
Your IPTV provider will send you some details to connect to their server, typically it is an m3u link that looks like this one.
http://line.iptvdomain.com/get.php?username=XXXXX&password=XXXXX&type=m3u
if you didn't see any mention of the Xtream Codes API don't worry because it's included in the m3u URL.
as you can see IPTV Smarters Pro asks for 4 info
Playlist Name: You can write anything you like I will suggest your IPTV provider name.
Username: you will notice that it's included in the m3u URL it's the XXXXX after ?username=
Password: the same as the username it's the part after password=
Server URL: http://line.iptvdomain.com ( in your case it will be different )
Note: don't copy the information as I wrote above, in your case the username and the password will be some random letters/numbers or a combination of both. the same for the server URL which will be different than the one I wrote.
make sure to write exactly what your provider sent you and then click on add user.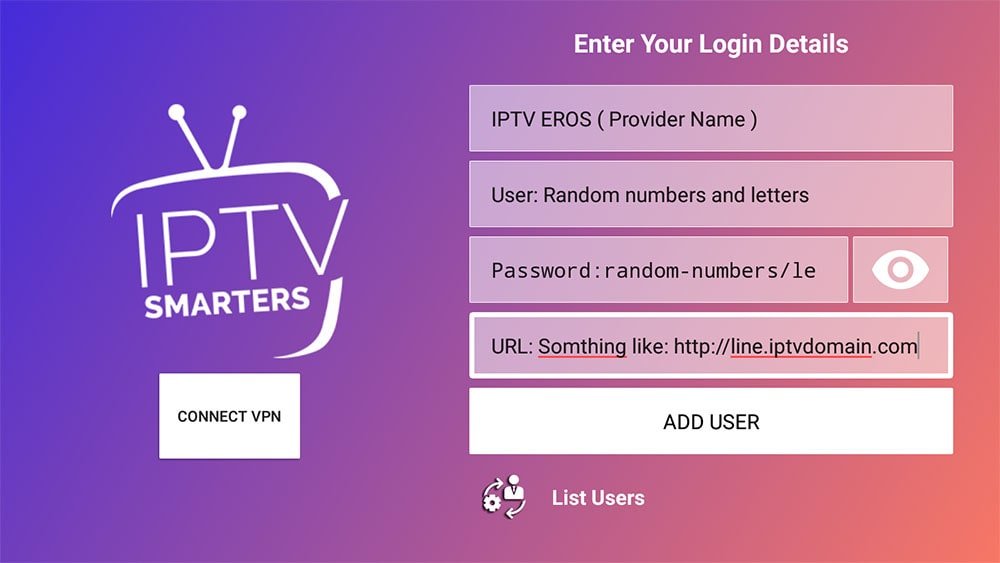 4- Enjoy!
That's it, after clicking on add new user the app will start downloading the channels and you will see 3 sections on the dashboard Live TV, Movies, series, the last version of IPTV Smarters Pro gives you the option to download only what you want.
What's Next?
by following these simple steps you can now stream all the channels your provider has given you access to, as always I highly recommend using the VPN when streaming IPTV, if you have a subscription install their app and connect to the VPN every time you want to stream IPTV.
if you don't have a VPN Subscription you can check this guide on: What is the best VPN service for IPTV.
FAQ
To download IPTV Smarters Pro on your Chromecast go to the playstore and search for IPTV Smarters.
if you cound't find it there you will have to sideload it using the Downloader app. 
this is a common issue and it can happen for many reasons.
1- you need to refresh the channels list: it's common for IPTV players to have issues proccessing the channels list on the incial setup all you have to do is click on the 3 dots as shown on the screenshots below and click on refresh the channels list/VOD this will force the APP to redownload all the channels and proccess them.
2- you're not using a VPN.
3- your IPTV provider server has issues.