IPTV Smarters Pro used to be an app that you can easily download from the play store and set it up, but starting at the end of March 2021 this app got suddenly removed from the play store, and it joined many other IPTV players that you need to sideload in order to use.
luckily sideloading apps on android is not that hard mission in fact it is as simple as downloading them from the play store but with one additional step, in this guide, I will take you step by step to properly sideload IPTV smarters pro on your Android phone or tablet without the need to use any third party app.
Install IPTV Smarters Pro on Android
There are three essential steps you have to go through
Download APK
Activate apps from unknown sources
install the app and access the IPTV
1- Download IPTV Smarters APK
the APK is the package that gets automatically installed when you download an app from the play store the sideloading is no different than that.
all you have to do is open the browser on your Android phone/tablet and type iptvhow/ds
or click the button below which they both will start downloading the APK automatically on your device.
you will notice that your browser will display a warning that this type of files can be harmful to your device, don't worry it is just a common security system to notify the users that this app is not downloaded from the play store and it not recommended to install apps from unknown sources.
since this is exactly what we wanna do you can click on the ok button and the download will start right away, after the download is completed you can either click on the small popup that appears on the same page, or in case you didn't find it you can go to your phone file manager " also known as media manager " and search for recently added you will find the APK with a name of IPTV smarter pro as shown on the image below.
note: the majority of android phones have a file manager if you couldn't find it within your apps you can download one straight from the play store where you will find many of them, install anyone you like and this should give you the ability to search for the APK package you have just downloaded.
after you click on the package a pop will appear to ask you if you want to to install this app on your device click install as shown on screenshot below.
note: since I am using bluestacks on this example it didn't ask me to activate apps from unknown sources, but there is a high chance that you will need to go through an additional step, it is not complicated at all and you will be asked only to turn a switch on for this particular app.
2- Setup and Configure IPTV Smarters Pro With your IPTV provider
Now after you have successfully install IPTV Smarters Pro on your android phone or tablet, the configuration is all that is left to do in order to stream IPTV.
as you might already know IPTV Smarters Pro is an IPTV player and it doesn't provide any content to stream you will have to first purchase a subscription from an IPTV provider which will send you the necessary info to use on this app.
if you don't already have a subscription with a provider I will highly recommend you to check my guide on how to choose the best IPTV provider for your needs, after getting a subscription you can use the info that they will send you as shown below.
HOW TO SETUP IPTV SMARTERS PRO ON YOUR ANDROID PHONE
1- OPEN IPTV SMARTERS PRO
just like any other app as soon as you finish installing it you will find it available with the other apps you have to click on the app icon to open it.
2- ACCEPT THE TERMS
this is just a legal disclaimer from them, you need to click on accept to be able to use the app
3- Click on Xtream codes API
IPTV Smarters Pro makes it easy to stream channels and VOD using the method you like, we always recommend using the Xtream codes API but you can use the m3u in case you prefer that.
4- Fill in the info
you can write anything on the name I will always recommend you to type your provider name on this field to better recognize it in case you're using multiple providers.
copy and past your account details that your provider has sent you.
Pro tip: if your provider has given you only the m3u you can extract the Xtream codes API easily from the URL which always comes like this ( http://line.iptvdomain.com/get.php?username=**XXXXX**&password=**XXXXX**&type=m3u )
URL: is http://line.iptvdomain.com
User: XXXXX
password: XXXXX
keep in mind that XXXX is just a placeholder you will instead see numbers and letters on your link those are the correct information to use.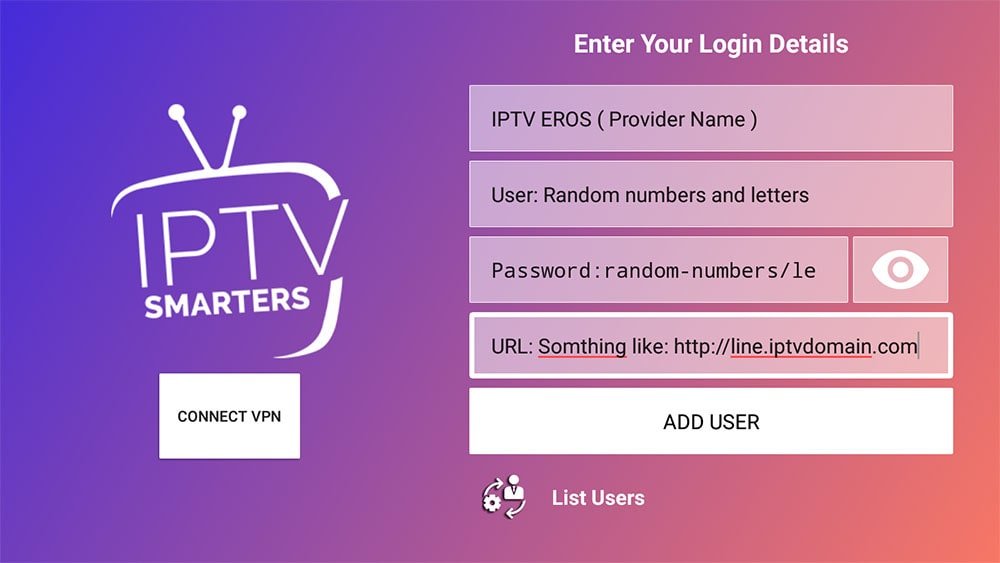 5- Click on Live TV and Enjoy!
after a quick load you will be able to see the user interface, click on live tv or movie/series to stream the content you like.
IMPORTANT NOTES
now you have officially finished the setup, if you started getting errors when streaming the channels this is because your ISP is applying restrictions and you should use a VPN service in order to bypass those restrictions.
you can check this article where we explained how you can troubleshoot the problems and get fast replies from your IPTV provider.
we also have a full features review of IPTV Smarters Pro on another article click on the links below to learn how you can make the most of this app.
IPTV Smarters Pro full review