IPTV smarters pro covers all of your IPTV streaming needs in a slick and easy to use interface, unlike other premium IPTV players like Tivimate which you will find only available on a firestick or android TVs, IPTV smarter pro is available on almost every operating system this includes LG WebOS, Samsung Tizen OS, android phones, Windows and MAC OS
don't get miss led by the pro word, IPTV smaters player is 100% free to use and there are no limitations on how many devices you can use it on also there is no account creation process that you're required to follow in order to unlock some features.
you can access all of the features out of the box from the moment you download it and connect to your IPTV provider.
when it comes to Firestick, options to download IPTV players are limited since the Amazon app store has rejected almost all IPTV players including IPTV Smarters Pro in this article I will break down how you can easily sideload this IPTV player to enjoy an enhanced and free to use streaming experience.
Note: IPTV Smarters like the majority of IPTV players doesn't provide you with the content ( Live TV & VOD ) you will have to purchase a subscription from an IPTV provider based on your needs
you can check this guide to better understand how you can choose the best IPTV provider for your needs.
How to install IPTV Smarters Pro on a firestick step-by-step guide with screenshots.
PART 1: INSTALL THE DOWNLOADER APP AND GET A VPN
Now what you need to know is that there are many ways you can sideload apps on Amazon firestick, Fire TV & fire Cube, using the Downloader app is the simplest way to do it.
before following any further with this guide make sure to first download the downloader app which I have covered how to do in this article.
Now you've finished installing the downloader app and allowing apps from unknown sources, activate your VPN because Amazon prohibited downloading apps from unverified developers.
if you don't already have a VPN service I will advise you to get one before even considering watching IPTV for many reasons which you will find all on this article alongside some recommendations for VPN services that I currently use.
Why you need to use a VPN when streaming IPTV, protect yourself today
PART TWO DOWNLOAD IPTV SMARTERS PRO ON YOUR DEVICE USING THE DOWNLOADER APP
1- Open the downloader app
Just like any other app, you will find the downloder app listed with the rest on your installed apps click on open to access the settings.
2- Write this number/URL
the downloader app gives you the option to install apps using various methods, the easiest way is writing numbers which are basically a URL shortener to the full URL, you can either write this URL iptvhow.com/ds or this number: 73224
3- Wait for the download to finish
the downloader app will automatically start downloading the file
4- Click install
after the download is completed the downloader app will automatically run the app and display the instalation guide click on install.
5- click close
now IPTV Smarters Pro has succulently been downloaded on your device, click close to delete the recently downloaded file because there is no further use for it.
6- Delete the APK file ( optional )
since the app is already installed the APK package is no longer required you can delete it from within the Downloader app to save space on your device.
Part Three: connect to your IPTV provider
when you purchase an IPTV subscription your provider will send you some information usually it includes an m3u link that looks like this ( http://line.domain.com/?php….) and the Xtream codes API which comes with 3 main components a Username, a password, and the server URL.
the best part about IPTV Smarters Pro is that it allows you to use any method you like, I will definitely recommend you to go with the Xtream Codes API since it's much faster in my opinion than the m3u, you might ask what is the difference between the m3u and Xtream codes API.
To understand the difference between the two, with the m3u each time your player needs to refresh the channels list it will have to download the whole m3u file which can get large if your provider gives you access to 10000+ channels.
Xtream Codes API is a better option because it can update the playlist faster since it doesn't need to download the whole file, also it comes with better EPG support, but genuinely as long as you have a good internet speed it will not make that much difference especially if your IPTV providers server was stable and fast.
Now after you got your account information from your IPTV provider open IPTV smaters pro which will ask you to add a new user.
1- Click on Login with Xtream Codes API
as I said eirlier IPTV smarters pro gives you the choice to choose any method you like
Load your playlist or File/URL is just another way to say m3u
Load data from your device ( not recommended ) is an option that allows you to use an m3u file I don't recommend it because each time your provider updates the channels list you will have to manually download the file and connect again.
Login with Xtream Codes API ( Best way )
play a single stream.
2- Enter your Account details
your provider will give you a username, a password, and a server URL put them all as shown on the image below, for the name you can put anything you like
Pro Tip: in case your Provider has sent you only the m3u, you can easily extract the Xtream codes from this URL as shown Below
the m3u URL is structured like this: http://line.domain.com/get.php?username=XXXXX&password=XXXXX&type=m3u_plus&output=ts
if you want to get the Xtream codes
the server URL will be: http://line.domain.com/
the user name is the numbers/letters after username=XXXXX
the same for the password password=XXXXX
after you put your information click on add user.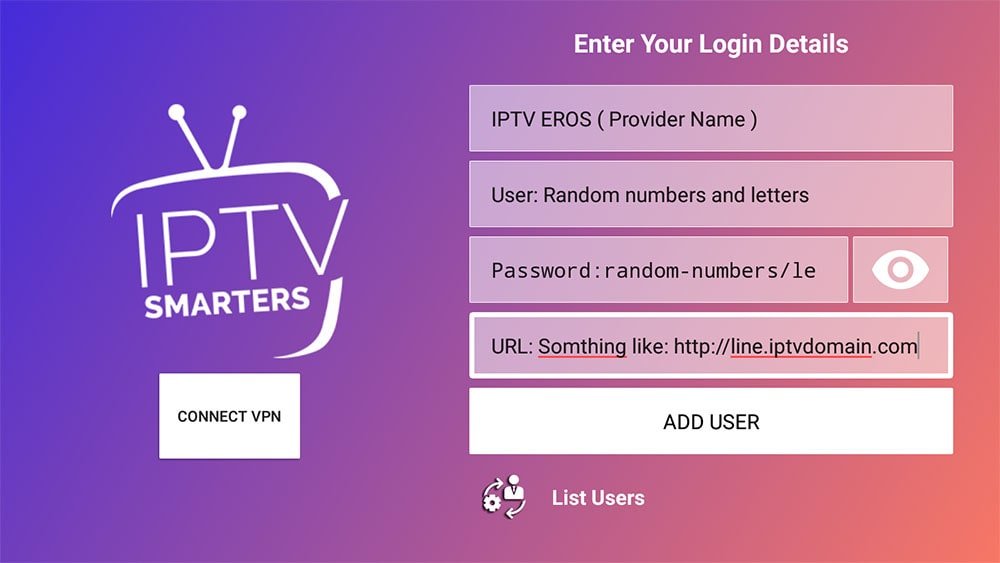 if you wrote everything in the proper way IPTV Smarters will start downloading the channels list and organizing them into categories, the image below is what you need to see.
if it gives you an error make sure you first connect to the VPN in case your ISP is applying restrictions on your IPTV provider, if this didn't fix the issue, reach out to your provider and send them a screenshot of what you see + what device you're using, other information like from where you're connecting will make the communication better, I will suggest you check this guide on how you can troubleshoot problems with IPTV.
3- Click on the user you've just added
IPTV Smarters pro will allow you to add multiple providers with no limits, we always recommend subscribing to at least two different providers because IPTV is not stable and if your current provider went down for maintenance it is always a good thing to have a backup for it to stay online no matter what happens.
Now after you've successfully connected you will find the newly added user in user lists click on it to access the channels.
4- Click on live TV
This is how IPTV Smarters dashboard looks like, as you can tell it's an intuitive user interface that lays down all the important sections in an organized and easy-to-use user interface.
Wrap up
By now you've successfully installed and connect IPTV Smarters Pro to your IPTV provider, if you like to check all the features that this app provides I will highly recommend you to check this guide.
IPTV SMARTERS PRO FULL FEATURES REVIEW