LG has removed many popular IPTV players from their official web store, by the time of writing this article IPTV Smarters Pro is still available and it will not require you to sideload it like other apps.
what you need to know first is that IPTV Smarters Pro is Available only in the USA LG Store, and you will need to change the country to the USA on your device if you want to access this app.
luckily this is an extremely easy task, all you have to do is go to the settings search for service country settings > Manual settings > choose the USA
note: depending on what version of WebOS your TV has, you might find it under a different name like location.. but overall with a little digging in the settings you can easily find and change your device country to be able to access the USA app store.
Important Note
Although IPTV Smarters Pro is available on the LG WebOS in my opinion getting a Firestick will make your experience much more enjoyable not to mention that VPN apps are not available at all on LG WebOS which means if your ISP is applying restrictions on your IPTV provider you will not be able to stream at all.
Getting a firestick or an NVidia Shield will allow you also to get access to better IPTV players that are only available on Android like Tivimate.
Part-1: Install IPTV Smarters Pro on your LG TV
1- Search for the app on LG's App store
go to LG's app store and search for IPTV Smarters Player, you will notice that it is available as IPTV Smarters "player" and not "Pro", so bear that in mind in case you searched using the wrong terms.
Part-2: Connect to your IPTV provider
1- Open IPTV Smarters Player
like any regular app, search for the app Icon and click on it to launch the PLayer
2- Accept the terms
like any other app you have to accept the terms of use before using the APP, just click on Accept and
3- Choose Xtream Codes API
IPTV Smarters player gives you the option to connect to your IPTV player using any method you like, but I will highly recommend you to choose the Xtream Codes API
4- Fill in your account info
when you subscribe to an IPTV provider they will send you some links to connect to their server,
depending on whether they explicitly sent you the Xtream Codes API on not you can easily extract it from the M3u link as shown below.
the m3u link always comes like this http://line.domain.com/get.php?username=XXXX&password=**XXXX&**type=m3u_plus&output=ts
if you want to get the Xtream codes
the server URL will be: http://line.domain.com/
the user name is numbers/letters after (username=XXXXX)
the same for the password (password=XXXXX )
Make sure to write all of them the slightest typo can prevent you from connecting double-check and make sure you didn't miss any letter or number.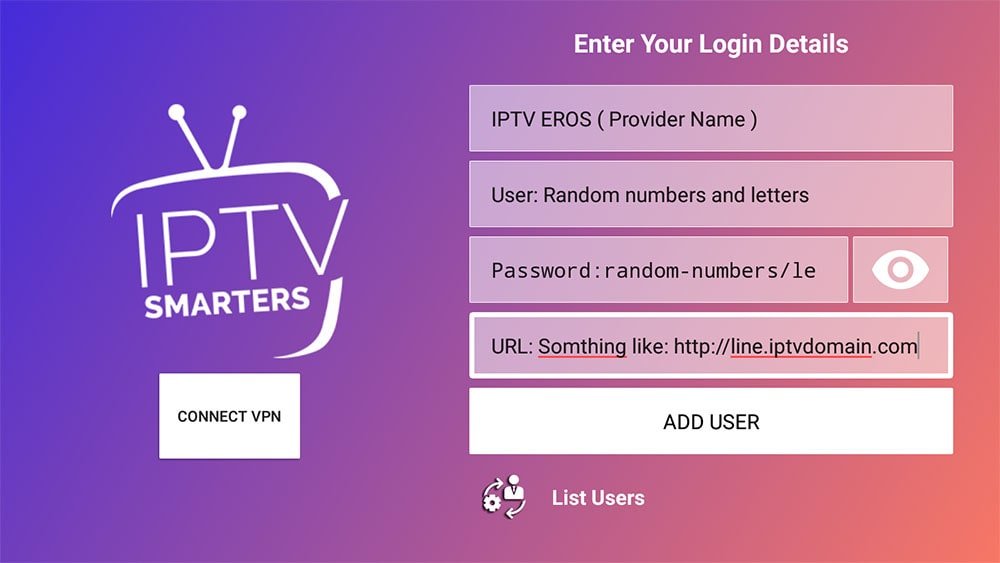 5- Click on live TV and Enjoy access to your favorite channels
you have now successfully connected to your IPTV provider server, and you will be able to stream all the channels you're interested in what I like most about IPTV Smarters Pro is the intuitive user interface that makes it so much easier to browse the channels.
If you like to get the most out of this APP, you can check this guide, where I reviewed all of IPTV Smarters Player features.
What's Next?
If you want to use IPTV on other devices, you will find many tutorials on this blog keep in mind that many users can get an Error called Failed to Authorize this because IPTV Smarters Pro on LG & Samsung requires providers to pay a fee to let the app connect to their servers.
if you're getting this error contact your IPTV provider to give you the link that they registered with on IPTV Smarters pro official website, if it didn't work you have the option to either get a Firestick or use another IPTV player which we have covered many of them on this page
What are the best IPTV players for LG